Principled leaders are in short supply.
Many so called "leaders" today, whether in business or in politics, act from greed and the expense of others, break the law because they believe they are entitled, or accuse those who try to hold them accountable "haters".
There was a time when 56 men came together, argued, threatened and accused each other but in the end came to agreement on a common cause: the freedom that they believed the Creator – Almighty God – gave to every person.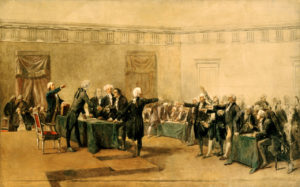 It wasn't an easy decision, nor a popular one.
July 1, 1776
As the low rumble of thunder rolled across the Delaware river, John Dickinson from Philadelphia urged the delegates of the Continental Congress to delay their decision to adopt a resolution for independence.  Lightning flashed, gusty winds and sheets of rain were lashing at the State House as the plea to postpone grew stronger.
"Declaring our independence at a time like this", he said "is like burning down our house before we have another; in the middle of winter; with a small family; then asking a neighbor to take us in, and finding that he is unready!"
The plea to wait until an answer came from France on the request to form an alliance had merit.  They could use more munitions to fight the British, yet his pleas seem to fall on mostly deaf ears.
They had been debating and arguing the notion of declaring independence from Britain for several weeks.  The Congress delegates knew the arguments.  If they declared to the world at this time the reasons propelling the to independence, they could win allies in their struggle – they could unify the country.
The people were tired of British oppression and ready to resist.  They were ready to combine their strength and risk their lives in support of the Declaration.
John Adams argued for independence.  The King was sending thousands of troops and mercenaries to subdue the country, to divide the colonies and to keep them from forming a strong resistance.
Adams said, "The people will stand behind the Declaration.  We shall be united; we shall fight for freedom; we shall win the respect of the world…"
The evening of July 1st found Thomas Jefferson in his room, with his writing box propped up in from of him near the dim light of an oil lamp making notes of the day.
Appointed to a committee several days earlier to draw up a draft declaration, Jefferson was chosen for the task by the other committee members.
In order to make their case he listed the charges against King George III.  he knew the words he had written on the document would be seen as treason and could get him arrested, sent overseas, and executed by His Majesty's government.
Jefferson's faith in the future was stronger than his fears.  He looked out his window to the west and saw the future: new territories and cities, bountiful fields and a republic of free men yet to be born.
---
Principles – they are what define you.  When others talk about you what do they say?  Are you a person of your word and live by principles that are encouraging, helpful and that motivate others?
Ask some of your friends to be brutally honest and tell you how you are doing.
Leave a comment about what you found out.  If you would like to have a conversation about principled leadership and living a principled life, just email me and I'd be glad to talk with you.